About Us
Based in Cusco, Peru, Creating Champions Peru is a young, dynamic and private
organisation for social assistance especially in the field of sports.


Meet the Team
A perfect blend of willingness to help and passion for sports,
a team that is always looking for more people similar to us.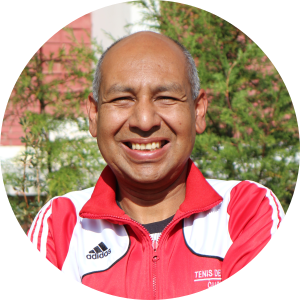 Founder & General Director
I'm from Peru and a sports fanatic. I'm a experienced table tennis coach and also have been in charge of management functions in sports organizations. I strongly believe Creating Champions Peru builds both, great athletes and good persons.

Lots of people ask me how I came up with the idea of Creating Champions Peru. Therefore, I will tell you my short story:

When I was young, I never had a trainer. I never had good equipment. I never had any idea about professional table tennis.

With 16 years old I met some other table tennis players at my high school. I was shocked! These 9 year old kids could play far better than I. It was the first time I learned something about professional techniques, professional equipment and a professional league. At that point, I thought about how good I could have been if I had had professional training.

 

 

Four years later, already going to the university, I met the one who will become one of my best friends. We shared the same passion: Table tennis. And we decided to improve our passion.

We started to watch table tennis videos from which we learned the basic techniques. That was our way to learn to play table tennis without trainer and just by ourselves. In spite of all of that, we never lost the pleasure of playing and we are still playing and, when possible, taking part in competitions.

I don't want more children to experience what I did. Therefore, in 2015 I founded an organization to give them the opportunity to have sports programs with a real professional trainer! This training is absolutely for free because of the fact that many families cannot afford it.

At the moment, we do not know whether they will become champions or not, but we are working hard on it. We want to support children's sport talents to make a social impact. And, in the end, every intern, thesis candidate or volunteer will be part of their success!

Mercedes Cisneros

 

 

 

School Director

I am from Peru, a very experienced teacher holding a master of Education Management and now working for I.E. Miguel Grau. My school and Creating Champions Peru are working together to make better citizens by means of sports.

 

Frans Bocken

 

 

 

Advisor

I am from The Netherlands and a psychologist. From my work experience, I am convinced that children need an honest chance and opportunity to grow. I really like sports and am sure, they are a way to grow as good persons.

Current Interns, Thesis Candidates
and Volunteers

Vanessa Kern

 

 

 

Photography-Filming and Social Media

I am a media design student from Vienna and I want to support CCP with my knowledge in content-marketing and videomaking. In todays world of the internet, you can transport a lot of emotions and sympathies with videos and good designs, the best way to show people around the world the everyday life of talented and motivated children.

 

Zoë Haack

 

 

 

Photography and Social Media

I study in Chemnitz University of Technology. Working with kids is giving my internship a social level which makes it even more interesting. As an intercultural communication student there couldn't be a post more fit than being in charge of the social media community of an organization abroad. I am really thankful for this chance.

 

 

Timo Apfelbacher

 

 

Marketing – Digital Marketing

I am an International-Business student of the University of Applied Sciences Nuremberg, Germany. Combining the concept of CCP to add an additional value to the society with the economic background of digital marketing differentiates this internship from common ones. I am very pleased to get the opportunity to be a part of this project!

 

 

Daniel Fricke

 

 

Sports Coach – Digital Marketing

As a student of Sports, Business and Law at University of Bayreuth, Germany, I consider myself both, an athlete and a passionate trainer. Given the chance to combine my talents for marketing and sports, I am looking forward for the time I will spend in this fantastic organization. Joining them means a lot for me and I am ready to start!
 

 

Lisa Schneider

 

 

 Photography-Filming and Social Media

I am a sports journalism student of the German Sports University, Cologne. I love to have the chance to combine my passions sport and journalism in a social organization abroad. With my knowledge, I will try to advance the marketing by representing young and motivated sport loving kids to everyone. I'm really thankful to be part of you soon!

 

 

 

Felix Schwarz

 

 

Sports Coach

I'm German and now studying Sport Sciences at the Technical University of Munich. In Germany, a free and high quality sports education for kids is completely normal. That being said, every kid in every country should have this opportunity. CCP embodies this vision and that's why I want to help! I'm very excited and can't wait to get started!
 

 

 

Kevin Burgat

 

 

 Soccer Coach

I'm Swiss, studying Sport Sciences in Haute Ecole Fédérale de Sport de Macolin and grateful to have the possibility to work with children in CCP where I can teach them and learn from them as well. Sport is not just an activity but also a lifestyle where you can learn so many things. And it's important to give this opportunity to the children.

 

 

 

 

Eleonora Melchior

 

 

Marketing – Digital Marketing

I am studying cultures and business at the University Duisburg-Essen in Germany. This internship gives me the opportunity of combining my gained knowledge with helping children in need. CCP creates new chances and hopes for kids and I am beyond grateful for becoming part of this incredible vision!
 

 

 

 

Gabriel Dietrich

 

 

 Marketing – Digital Marketing

I'm a Swiss M.Sc. in Sports Management. Children sporting development is very important to me. Every child should have the opportunity to evoke hidden sports talents. Thus, it's a great concern to me to actively engage myself in this. I'm very honoured CCP gives me the opportunity to contribute my theoretical and practical know-how to this great project.

 

 

 

 

 

Christine Spahni

 

 

 Photography-Filming and Social Media

I'm Swiss and graduated in July from Glasgow Caledonian University. As a Media & Communication bachelor, I am now currently gathering as much knowledge and experience in the field as possible. Joining Creating Champions Peru to help promote sport as an educational tool is a fantastic opportunity and I look forward to being a part of the team.
 

 

 

 

 

 

Sabine Brückner

 

 

 Marketing-Digital Marketing

I'm a master student in digital media at Chemnitz University of Technology. Due to my strong passion for sport and experience working with children, this internship is the best one for me. Experiencing the Peruvian lifestyle by living with a family, improving my Spanish outside of a school room, and making a social impact is very appealing to me!

 

 

 

 

 

 

 

Laura Stricker

 

 

Digital Marketing – Spanish translator

I study Multilingual Communication at the University of Applied Sciences in Cologne where I take courses like intercultural communication and languages. With the internship I hope to make a social impact and assist CCP in their vision of creating fair chances for children. Being a part of this creative team is an amazing opportunity I am really looking forward to!
 

 

 

 

 

 

 

Sarah Illmer

 

 

Digital Marketing – Sports Coach

On one hand, as a student of Sports Management in Jena, this internship is the perfect opportunity to benefit from my knowledge and experience in marketing and social media. On the other hand, as an ambitious athlete I´m excited to share my passion to soccer with some talented kids. I´m looking forward to an exciting time in a great team at CCP!

 

 

 

 

 

 

 

 

Annika Köferlein

 

 

Sports Coach

I'm from Germany and study Pedagogy and Sport Didactics in Bamberg. My internship enables me to teach the children new sport skills, help them to grow beyond themselves, and be part of their development. Also I have the chance to gain great new experiences. I'm looking forward to an exciting and instructive time. See you soon in Peru!
 
 

 

 

 

 

 

 

 

 

 

Scott De Borger

 

 

Marketing – Digital Marketing

I'm a sport journalist from the German Sport University Cologne, sport passionated and interested in connecting the world by the use photography and social media. CCP is the perfect way to visit new countries, learn new cultures and gain work experience for the future. I'm really looking forward to be a part of this and work with the kids!
You?